Tin Yi Metal Manufacturing Corp.--Lighting holophotes, lampshades, outdoor lights, work lights, downlights, mounting lights, speaker parts--
- 2013/08/30 -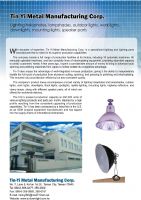 With decades of expertise, Tin Yi Metal Manufacturing Corp. is a specialized lighting and lighting parts manufacturer that is noted for its superior production capabilities.
The company boasts a full range of production facilities at its factory, including 10 automatic machines, 80 manually operated machines, and two complete lines of electroplating equipment, providing abundant capacity to satisfy customers' needs. A few years ago, it spent a considerable amount of money to bring in advanced auto spinning and polishing machines from Japan to further bolster its competitive advantage.
Tin Yi also enjoys the advantage of well-integrated in-house production, giving it the ability to independently handle the full cycle of production from aluminum cutting, spinning, and pressing to polishing and electroplating. This ensures not just production efficiency but also consistent quality.
The company's product lineup encompasses a broad variety of lighting holophotes and lampshades, outdoor lights, work lights, downlights, track lights, spotlights, reptile-lighting, mounting lights, highway reflectors, and clamp lamps, along with different speaker parts, all of which are offered for worldwide delivery.
The firm's present production capacity is 300,000 units of various lighting products and parts per month. Backed by a high profile resulting from the consistent upgrading of production capabilities, Tin Yi has been contracted by a listed firm in the U.S. as an OEM (original equipment manufacturer) and has tapped into the supply chains of international enterprises.